test yourself with three recipes signed Philippe Etchebest
Philippe Etchebest took his first steps in the kitchen at Le Chipiron, the Basque restaurant of his father, Jean-Pierre Etchebest, in Bordeaux. While he was still only a schoolboy, he already helped his father in the kitchen and regularly followed him to the Capucins market, nearby, to do the shopping. Suffice to say that local products and recipes hold no secrets for the pillar of the Bordeaux gastronomic scene. In the book Cook well accompanied with my Mentor method (Albin Michel, 2021), the Best Worker of France offers to learn or relearn the basics of good cooking by going back to the imperatives (tidying up your fridge, preparing your shopping, etc.). But also by tackling 100 essential recipes, some of which belong to the gastronomic heritage of the South West.
Basque chicken
For 2 people
Preparation: 15 minutes
Cooking: 1 hour 45 minutes
Ingredients :
1 onion
4 garlic cloves
2 green peppers
1 red pepper
2 sweet green peppers
10 cl of sunflower oil
the 2 thighs and the 2 wings of a chicken
20g flour
2 tbsp. tablespoon tomato purée
2 bay leaves
2 sprigs of thyme
1 liter of water
2 pinches of coarse salt
2 g powdered Espelette pepper
Peel the onion then slice it. Peel the garlic cloves then crush them. Peel the peppers with a peeler, cut them in half, then remove the seeds and the white membranes. Mince them.
Rinse the green peppers and chop them.
Heat the oil in a pot, then brown the chicken pieces over high heat. Reserve them on a plate, then brown the vegetables.
Add the flour, tomato puree, garlic, bay leaf and thyme, mix well.
Add the chicken pieces then the water, and cook for 1 hour to 1 hour 30 minutes.
At the end of cooking, add the coarse salt and the chilli.
Tarbais bean salad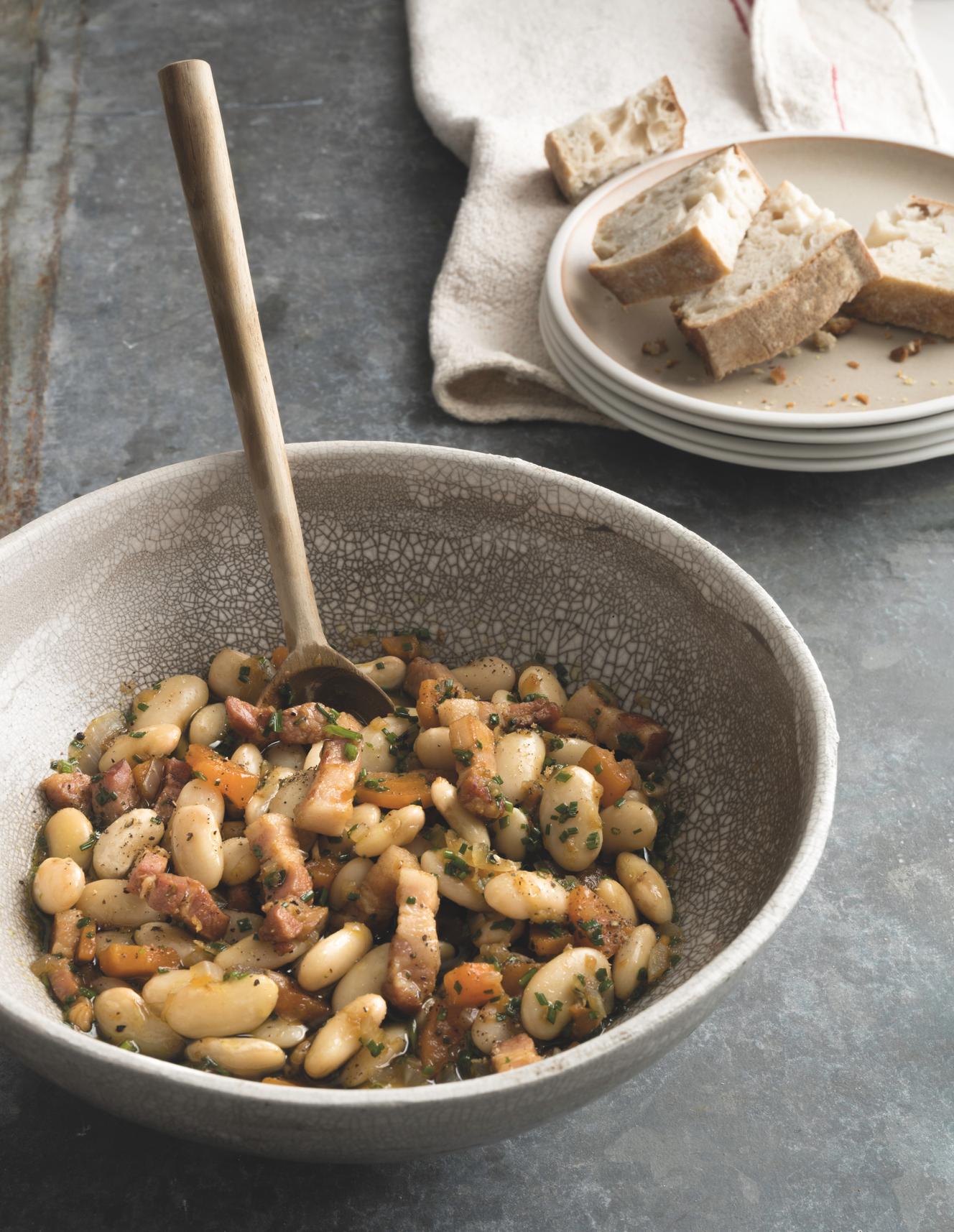 For 4 people
Preparation: 25 minutes
Cooking: 40 minutes
Rest: 1 hour
Ingredients :
240 g of dried tarbais beans
1 carrot
1 onion
3 cloves of garlic
20g butter
Colza oil
15 cl of olive oil
2 sprigs of fresh thyme
1 l white chicken stock
coarse salt
150g smoked bacon
pepper
salt
10 sprigs of fresh chives
Soak the beans in a bowl filled with cold water for at least 1 hour (ideally overnight).
Peel the carrot and the onion, then cut them into mirepoix (small dice). Peel the garlic cloves, peel them and then crush them.
Heat the butter and 1 tbsp. rapeseed oil in a pot, then sweat the onion for a few minutes. Add the drained beans, carrot, garlic and thyme, then pour in the white chicken stock. Season with coarse salt and cook for about 30 minutes.
You have 40.13% of this article left to read. The following is for subscribers only.