How to cook in Animal Crossing New Horizons and become the ace of good food?
The Kitchen is a new feature added in Animal Crossing New Horizons update 2.0. This is the very first time since the existence of licensed games that it is possible to cook like this. Of course, food and good food, especially with Dindou and his Sharing Party, were already there before, but now we can craft our own recipes and grow vegetables.
How to unlock the Kitchen in Animal Crossing New Horizons?
In order to obtain the possibility of concocting dishes, you must meet the following conditions:
You must have learned to craft objects thanks to Tom Nook's workshop if you are at the start of the game and thus obtain the Creations application,

You must have 3 stars on your island, have unlocked the Town Hall and attended the first concert of Kéké,

Then use the Nook Stop terminal to redeem your miles for "Recipes Creations +" in exchange for 2000 Miles,

This will modify your Creations app on the Nookphone and add two new tabs: dishes and desserts,

Be careful, however, to cook you cannot use a workbench: you have to go through a kitchen (gas cooker, oven, etc.)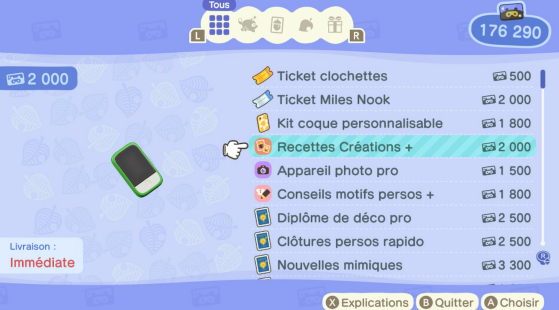 How to find ingredients for cooking in Animal Crossing New Horizons?
Now that you have unlocked the Creations + application and installed a kitchen in your home, you must harvest as much as possible ingredients to be able to make dishes. In the guide below, you will find the way to get all the new vegetables and foods in the game: carrot, wheat, sugar cane, tomatoes and potatoes. Also note that bamboo shoots, mushrooms, pumpkins, fruits or even fish are used in some recipes.
How do I get new recipes?
In order to cook, you will need to unlock cooking recipes just like you need crafting blueprints to craft furniture with your workbench. Recipe plans can be found everywhere and are quite easy to obtain in the end:
By purchasing the new Recipes Creations + application, you automatically get 8 recipes: Flour, Sugar, Carrot soup, Pumpkin bagel, Tomato curry, Grilled bass with herbs, Stack of pancakes, Basic fruit smoothie of your island.

Then go to the Méli et Mélo shop : in the cupboard you can buy a set of recipes called "A good start in the kitchen" against 4980 bells. The latter includes the following recipes: wholemeal flour, brown sugar, seaweed soup, basket of organic breads, carrot cake, brown sugar cupcake dish, batch of tomato purée, potato gnocchi dish.
Plans are available in bottles in the sea on the beach,

With the inhabitants who cook at home (once or twice a day),

By catching fish (anchovies, flounder, flounder, wakame, sea bass, horse mackerel or snapper will give you recipes),

In the balloons in the sky,
With special characters : for example, after the 6th day of Coffee, Robusto will give you the recipe for its Perchoir biscuit. Piglet will send you the recipe for bamboo shoot soup if you buy turnips from her, and Racine will send you the recipe for vegetable basket if you buy enough shoots from her.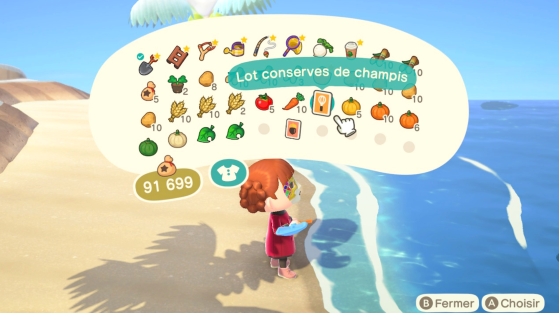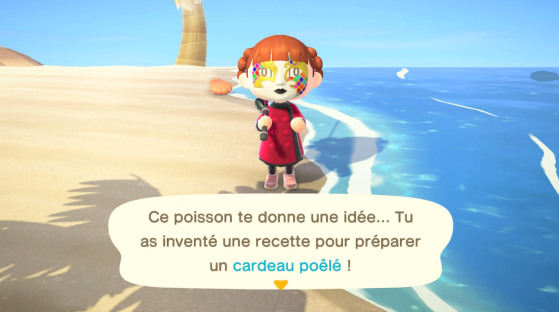 Of course, any food you craft can be eaten to grant you strength.