Star croque-monsieur recipe
You're going to have stars in your eyes, and that's saying something! These little star-studded croque-monsieur will be a sensation for New Year's Eve as they are delicious.
Think of the mini croque-monsieur for the last aperitif of the year! To celebrate the New Year while enjoying yourself, there's nothing like these star-studded croque-monsieur, very easy to prepare and very tasty. We bet that your guests will have stars in their eyes when they see them… Also fall for the foie gras macaroons, a festive dish par excellence. To toast (in moderation), we offer you a small clementine spritz, a sparkling and fruity cocktail.
See also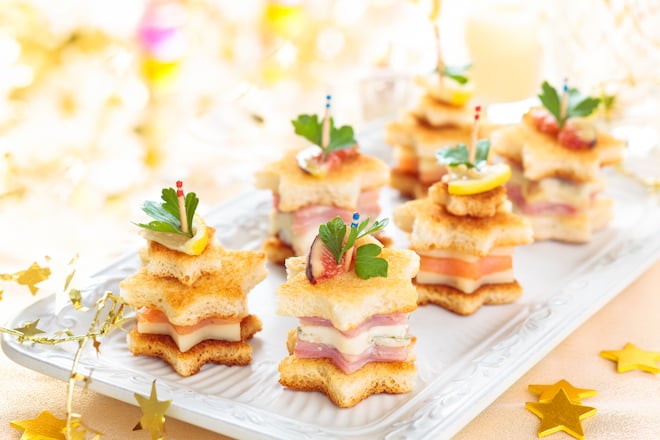 Star-studded croque-monsieur recipe. Credit: iStock
STAR CROQUE-MONSIEUR RECIPE
For 6 persons
Ingredients :
For the bechamel:
– 20 g of butter
-20g of flour
– 25 cl of milk
– 1 pinch of nutmeg
– Salt pepper
For the croque-monsieur:
– 6 slices of white bread
– 30 g of butter
– 6 slices of croque-monsieur cheese (or emmental)
– 3 slices of white ham (or salmon)
Preparation :
1. Make the béchamel: melt the butter then add the flour and form a roux. Pour in the milk and stir vigorously with a whisk. Leave to cook until the béchamel thickens. Add nutmeg, salt and pepper then set aside.
2. Cut out the slices of sandwich bread using a star cookie cutter. Repeat the operation for the slices of cheese and ham.
3. Butter the sandwich bread and place a slice of ham on half of them. Add two slices of cheese and then another slice of ham.
4. Spread a layer of béchamel then close with another slice of bread. Bake for 10 to 15 minutes at 180°C.
Trick : you can use truffle butter for even more flavor!