Perla Servan-Schreiber's favorite soup recipes to face the cold
Winter is a time when the cold can easily rush into our interiors… And into our heads. This is why Perla Servan-Schreiber has compiled her best bubbling preparations in a new book to comfort us.
For the making of her latest culinary work, Perla Servan-Schreiber did not start from an ingredient or a region with established gastronomy, but rather… from geopolitics. And more precisely, from an observation: "The state of the world risks depriving us of heat this winter, at least partially." This is why the French journalist and author, who has already published four cookbooks dedicated, among other things, to healthy cooking or low-sugar desserts, has decided to compile twenty gourmet soups. Stated goal? "Consoling us for a planet struggling to live, warming us up and making us travel without polluting." Because as she assures us, "if there is a universal food that knows no borders, it is soup". Of which note: from a version with Iranian pomegranate to Neapolitan clear broth via the tomato tourin typical of the South-West, the one who co-founded the magazine Psychologies with her husband, Jean-Louis, invites the taste buds to a delicious tour of the planet, comforting to perfection.
Also read: Yum! Our kimchi stew recipe
Celebrating taste buds
Especially since by definition, soup lends itself particularly well to these turbulent times, which are not kind to mental health. As Perla Servan-Schreiber reminds us in this practical and colorful little book, each recipe can be prepared in advance, frozen and then reheated when you feel hungry. Obviously for the person concerned because, at home, who says soup says childhood: "In my native Morocco, in Fez, the winter was harsh and the apartments were unheated. It was needed to face the cold evenings and satisfy my appetite, as soon as I got back from school. Dinner around 6 p.m. with a hot soup remains my ideal." And Perla Servan-Schreiber to ensure having thought of the twenty preparations to put "the taste buds in celebration from January to March, together and in joy".
POMEGRANATE SOUP
For 6 persons
Prep 15 minutes Cook 1 hour
Ingredients
300g onion
4 cloves of pink garlic
85g split peas or green lentils
1 heaped tsp of turmeric
1 pinch of cayenne
2 bunches of flat-leaf parsley
1 bunch of cilantro
3 bunches of finely chopped chives
500g minced beef or lamb
85g basmati rice
1 liter pomegranate juice
2 l of cold water (or 1 l of water + 1 l of broth)
3 tbsp pomegranate molasses (can be bought in organic stores or on the Internet)
2 tbsp of sugar
Juice of 3 lemons
Salt pepper
3 tbsp olive oil
Preparation
1. In a Dutch oven, sauté the onion in the olive oil over high heat for 3 minutes, stirring.
2. Add the sliced ​​garlic, turmeric, split peas and water (or water-broth mixture).
3. Bring to a boil.
4. Cover and lower the heat.
5. After 40 minutes, add the rest of the ingredients, except the lemon juice.
6. 10 min later, add the lemon juice.
7. Adjust in spices. And There you go!
BORTSCH EXPRESS
For 6 to 8 liters of hot broth
Preparation: 20 mins / Cooking: 20 mins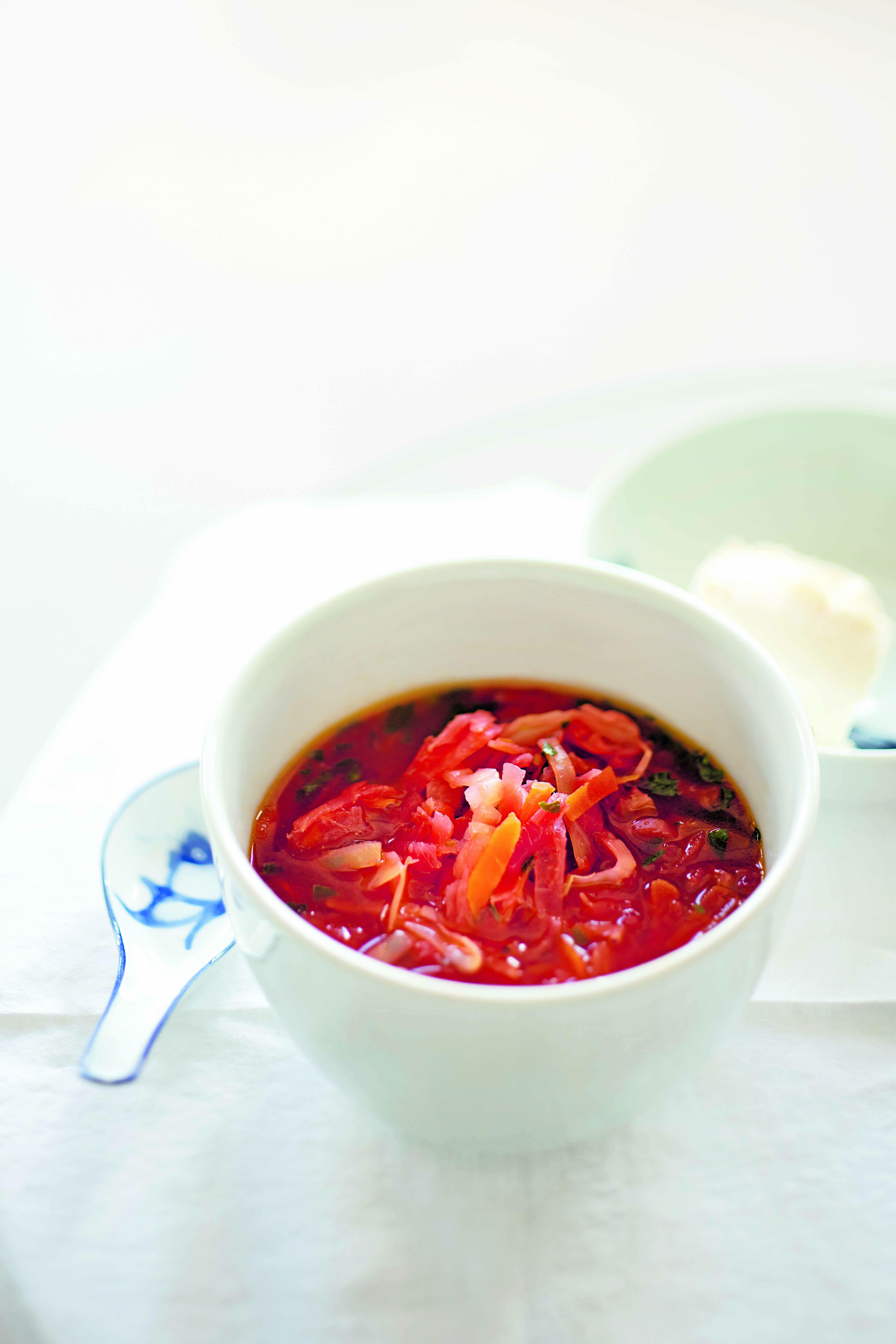 Ingredients
500g cooked beets
250g charlotte potatoes
250g white cabbage
2 carrots
2 onions
3 tbsp. at s. tomato concentrate
30g butter or oil
2 tbsp. at s. white vinegar
3 tbsp. at s. heavy cream + 1 tbsp. ass. lemon juice –
1 C. at s. sugar
Salt pepper
1 bunch of flat-leaf parsley
1 thick slice of cooked ham and/or 3 frankfurters
Preparation
1. Peel and grate all the vegetables using a coarse grater.
2. In a casserole dish, brown them for 3 minutes in butter or oil, over high heat, with sugar, salt and pepper.
3. Add the hot broth. Cook for 20 minutes over low heat.
4. Finally add vinegar, tomato concentrate and half of the chopped parsley. Stir, adjust salt and pepper.
5. It's ready!
NB: To reconcile vegetarians and charcuterie lovers, I offer diced ham, frankfurters in slices, chopped parsley and sour cream (fresh cream + lemon juice).
Still hungry?
My 20 soups to warm the body and soul, Perla Servan-Schreiber, Editions de La Martinière, Photographs by Nathalie Carnet.